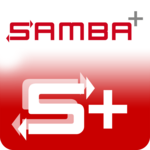 SAMBA+ is the leading SMB software for a variety of Linux and Unix systems, provided by SerNet. The packages are available as software subscription – choose a subscription tailored to your needs, be it one, two, or three years. Receive your license key instantly upon purchase from our shops:
The SAMBA+ world shop is provided by SerNet GmbH in Germany.
The SAMBA+ US shop is provided by SerNet, Inc. in California serves customers from the U.S. and is also open for customers from all around the world.
Also available in both shops are support budgets for fast and easy procurement of help by SerNet's Samba specialists.
To set up your SAMBA+ packages, please follow the instructions on our HowTo page.
SAMBA+ makes a difference
The "PLUS" in SAMBA+ emphasizes the advantages of SerNet's software packages. They are available for almost all Linux systems and are always based on the latest Samba source packages. SAMBA+ is always up-to-date and behaves the same across all platforms – thus solving the problem that Samba packages from the different Linux brands differ significantly and cause problems in mixed environments.
Want to know more? Have a look at all the advantages of SAMBA+ or just contact us to discuss what SAMBA+ has to offer.
Active Directory and Clustering support
SAMBA+ is compiled with maximum respect to performance and stability. Latest features for authentication and clustering are included. Active Directory support in SAMBA+ enables Identity Management and interoperability between operating systems of all kind: Windows, macOS, Linux and all AD compliant devices. Support for IBM's Spectrum Scale (GPFS) in SAMBA+ has been developed by SerNet in close partnership with IBM.
Buy software subscriptions and support budgets. SAMBA+ subscriptions are available for 1, 2 and 3 years at the SAMBA+ shop.